Millions of businesses worldwide buy WordPress templates or download free ones to get a good-looking website instantly. However, what's missing in these templates is the power to create a unique identity for your business.
When you choose to go for a custom theme, you move towards creating something memorable about you that will be etched in the psyche of your website visitor.
Let's explore the top 3 benefits of a custom theme for your WordPress website.
1. Branding
A custom theme incorporates your brand identity as the foundation of your website's design. Your branding reflects everywhere; on the front end, administrative backend, login screen, dashboard, options screen and the favicon, and not the theme designer's. Hence, every element of your site is used to promote your brand.
2. Personalization Options
Personalization is much more than choosing a header image, colors or fonts from the available options. A custom theme incorporates unique features and functions that only you will ever use and none that you will never, so that your website works exactly how you want.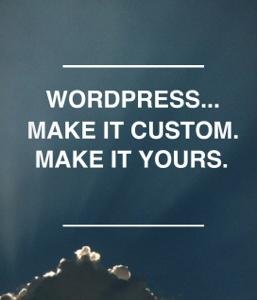 3. Value for Money
A custom theme does cost higher than templates but offers a clean code and the benefit of absolute control over your website layout and display.
A custom theme enables you to choose what, how and when you want or don't want to incorporate in your website. For complete support on custom themes and a host of other WordPress solutions, visit www.premiumwpsupport.com.