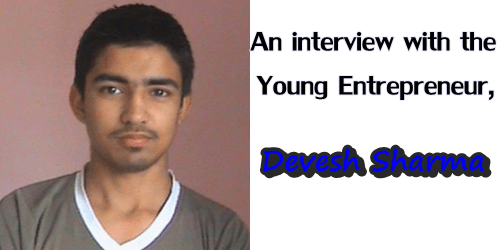 In today's business generation, age is not an important qualification in starting a business, as long as you have the determination and hard work you can be an entrepreneur anytime. Devesh Sharma is one the example, he is the founder of wpkube.com and started his business at 15 years of age. So the interview goes this way:
You started this field at a very young age of 15, what made you got here? Do you plan this journey or was it incidental?
I realized early on that I didn't want to do a 9-5 job in my life; neither did I want to run a business just to make money. So I started looking for unique ways to make money / start business, and found a dozen of sites talking about making money online with Adsense.
After a year of learning and experimenting, I started my first business blog called Technshare, which I later sold for 4-figures.
Now I manage a fairly popular WordPress resource site called WPKube.
You are the founder of WPKube, how and when this company founded?
In early days I ran a small WordPress consultancy business. Plus WordPress was a topic that I use to write a lot about on my business blog. So it was natural progression to start a business around WordPress.
The company was founded in 2010 with the goal to provide in-depth tutorials, how-to guides, and other useful resources to WordPress users.
What were your stepping stones in starting this business and to maintain its success? Tell us your experiences.
I think the stepping stone was when I started to publish in-depth guides like What is Managed WordPress Hosting and Experts reveal their best WordPress plugins. Since then I have started putting more time & money into in-depth guides and it is really working well with my site.
Another stepping stone was expanding the wpkube team. I don't think I would be where I am today without the help and support of my team.
Aside from working with WordPress, what are the other things you would love to do?
I'd love to experiment with Amazon FBA and building iOS apps.
As a WordPress expert working with several years, how do you foresee WPKube in the next three to five years?
More free resources for the WordPress community.
I'm working hard on some new products that I plan to release this year, one of them is Coupons plugin called CoupineWP. I'm also experimenting with ThemeForest to see how products perform there; so far the results look very promising.
Last month, I also released a free coming soon theme called Launch.